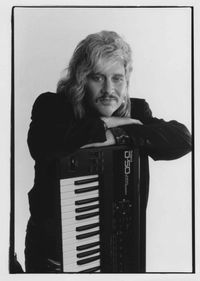 JAMES STEWART is a critically acclaimed keyboardist, composer, producer, performer and music educator with over twenty five years of professional experience in the music business. A decade and a half after his last album, the drive to create music that defies classification and sends the listener wherever they want to go, finds Stewart  at it again with the release of his fourth album, "Sky Blue".
    Born on  a military base in North Carolina and spending his early years in Wilmington, DE certainly didn't seem to set the stage for where James Stewart ended up. Shy and unsure of himself, Stewart muddled about taking piano lessons and played in dinky local club bands during High School. "I was absolutely awful back then," says he with a cringe on his face.
    After hooking up with the rock band Lighthorse Harry, while attending the University of Delaware, things started to solidify and Stewart became more confident with his playing. People noticed. Two street smart players in the band, one from New York City, one from Washington, D.C., suggested Stewart check out Berklee in Boston. "What's that? I've never heard of it," he says inquiringly.
    A bit of an altercation ensued with the family after James Stewart announced he was going to Berklee College of Music regardless of their wishes. Studying with Bob Winter of the Boston Pops and running with fellow students David Rosenthal (Billy Joel), Steve Vai (Frank Zappa, David Lee Roth), Josh Sklar (Etta James), and Clair Marlo of Sheffield Records, Stewart continued with studies in piano performance, electronic music and studio production. He wrote and performed his music with local rock bands, (Jack Damage being the most notable), throughout New England, sharing stages with artists like legendary jazz pianist Sir Roland Hanna.
    After receiving a degree in Professional Music, James Stewart relocated to Los Angeles and began logging years of studio time as an engineer and session player with artists like Robbie Nevil, Lamont Dozier, and Phil Collins' band members Rahmley Davis and Chester Thompson, as well as respected producers Henry Lewy and Hal Davis. In his off hours, Stewart performed in groups like Durango 95 and the New Kings, while honing his chops by studying with noted keyboardist John Novello (Chick Corea, Edgar Winter).
    In 1992, James Stewart released "Season Of The Butterfly," on YMP Records. The album featured guest support from guitarist/violinist Rick Sailon (Laura Branagan), and saxophonist Rob Kyle (James Lee Stanley). It was a critical success receiving a smattering of radio airplay and included an innovative new arrangement of the Mason Williams piece, Classical Gas.
    One year later found James Stewart returning to his Wilmington hometown after the Los Angeles riots. His second album, "Lovers And Heroes," was partially written in Los Angeles and completed in Delaware. Released in 1994, its surrealistic sonic images met with critical and commercial favor, gaining nationwide radio exposure.
    "Under The Pyramid," (1995), James Stewart's third release on YMP Records, further explores his fascination with curious melodies and slick synthesizer instrumentals with bite and energy. "This is an aural adventure that taps into cosmic energy," says Stewart, "and I almost charted on Billboard with this one!" But just as things were really starting to build, "some funny business popped up along with the failure of my marketing team to perform," recalls Stewart. "Things rapidly fell apart. I was in free fall headed towards financial disaster!"
    Then the dark years. No gig, no reason to write music any more, and a huge pile of debt from marketing and promoting three albums. "I decided to quit music, just throw it away, what a waste..." utters Stewart in disgust. "But very quickly I realized  I was going nuts without music and I needed to earn a living. So I started teaching private lessons. Slowly, and I mean slowly—it took an awful long time to build up a student body, but I hung on and things turned around. After years of hard work I paid off my album debt and started writing again."
    And so..., the fourth album, "Sky Blue," has finished being recorded. "It's taken years to pull all this stuff together, including myself, but I feel great about this new album," James Stewart says with delight. "I believe this is one of my best efforts to date. I'm real happy now that it's complete!" Don't forget to get your copy of "Sky Blue," and hear for yourself.